Red Squirrel Rising
is a Blacksburg-based music group comprised of a band of Virginia Tech art professors, disguised through code names of Lucky Longtail, Sciuri Thumpus, and Rocky Rattatatus. RSR has a unique, purely-instrumental sound, influenced by Progressive Rock, jam band, and other 70's inspired sounds. 
Our job was to design a band poster advertising a hypothetical event for RSR. After embarking upon on my own listening journey through their discography, I came to a few key words that influenced my design making: atmospheric, colorful, fluid, psychedelic, and of course, fun. 
One-week challenge:
This poster served as a quick, comical, one-week design challenge in our Intermediate Design II class. Our very own graphic design professor, a.k.a. Sciuri Thumpus, joined us for a final critique of our designs.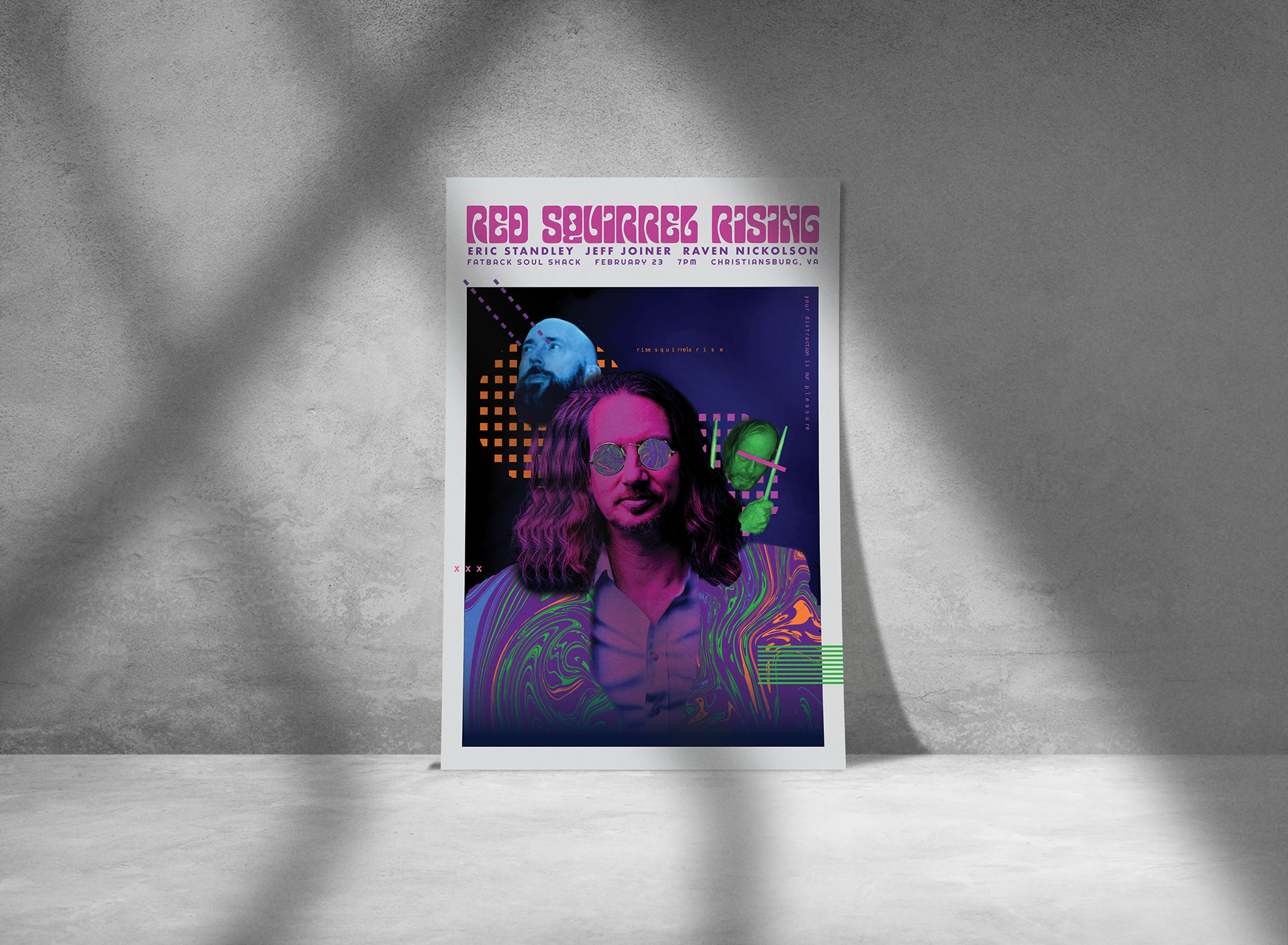 A Post-modernist Fillmore poster:
RSR's musical sound and personality reminded me much of the psychedelic grooves of the 70's, but with an atmospheric twist likened to that of Tame Impala. To bridge this gap between "then" and "now," I wanted to mimic the over-the-top colors and style of Fillmore posters, but with the execution of a post-modernist collage approach. I had a lot of fun with frontman Eric Standley, adding playful touches of a fluid photoshopped suit and matching psychedelic glasses. 
Breaking boundaries in Rock:
Just as RSR breaks the boundaries of Progressive Rock, I made sure my design elements broke out of its boundaries, as well. A couple lines of text were taken from their hilarious
website
, my personal favorite being, "Your distraction is our pleasure."